Hello! How are you? Come and find out more about me!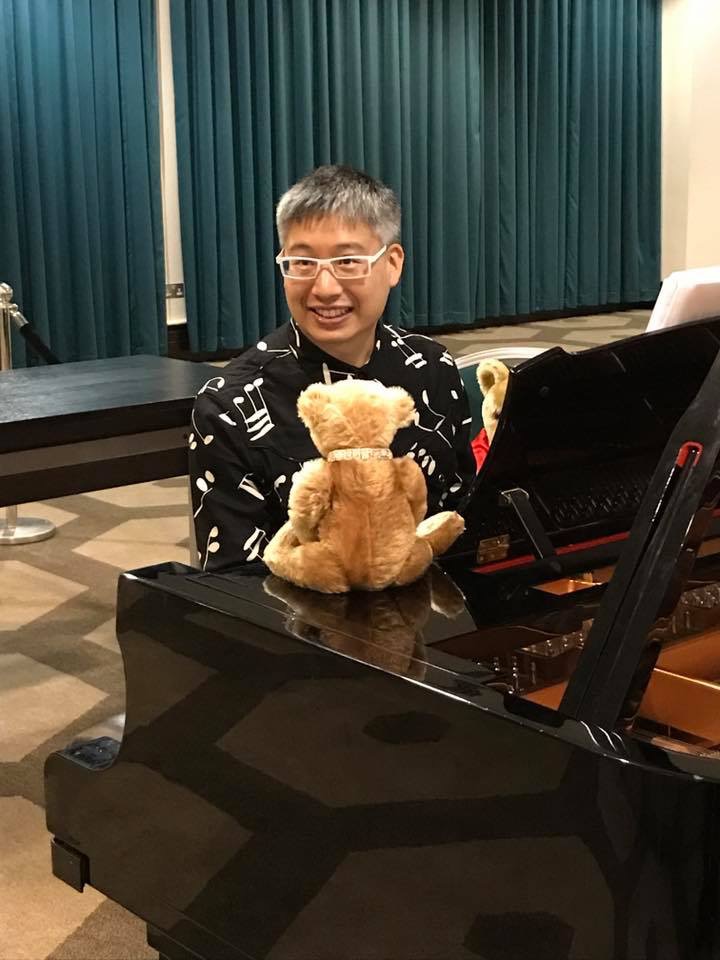 Biography

Jena Chun-Wah Pang is based in the United Kingdom and has an international reputation for teaching and judging competitions: his students regularly compete in international competitions and music festivals around the world and have won several first prizes at the Clavis International Piano Competition 2018 in St Petersburg Russia and the Amigdala International Piano Competition 2019 in Italy; first, second and third prize winners of the Feurich International Piano Competition 2019 and 2018 in Vienna, first and second prizes at the Costa Festa International Piano Competition 2019 in Spain, second prize winner (violin) at the Canadian Music Competition 2019, first prize at Tadini International Piano Competition 2019, several first prizes at the London Young Musician International Piano Competition 2020 and and 2021, first prizes in the finals of the 2020 EPTA-UK piano competition, 6th prize at the Hamonium Plus International Piano Competition Armenia 2020, Silver award at the Music and Stars International Piano Competition 2020, 2nd prizes at Amigdala International Piano Competition 2021, 2nd prizes at Monegro 88 Keys International Piano competition.
His students are based in the United Kingdom, Hong Kong, Beijing, Geneva, Milan, Vienna, New York and Calgary. Several of this students have also won the prestigious Elena Cobb Star Prize Award and have performed at the Royal Albert Hall.
Mr Pang was awarded an instrumental scholarship to study Music at St Peterís College, Oxford University and studied the violin with Lydia Mordkovitch and the piano with Lora Dimitrova and had lessons with Christopher Elton, Ruth Waterman, Keith Pascoe, Brenda Farrow, Shalinee Jayatilaka and Elsie Brown. He has been teaching the piano and violin for the last 27 years in addition to being a solicitor and partner in a law firm from 2004-2014. Now he is in high demand as a teacher and for judging competitions and scholarship awards internationally. He has given many concerts, lessons and masterclasses around the world.
Recent engagements have been as the Chairman of the piano jury of the Amigdala International Piano Competition 2019 in Italy, judging the finals of the 20th Osaka International Music Competition in Japan, as well as the Hong Kong and Taiwan regional rounds of the competition (piano and strings), judging the 2019 IMPACT Young Artists International Piano Competition USA, judging the inaugural Carmel Klavier Europe International Piano Competition 2020, judging the Saint Petersburg International Piano Competition 2020, giving a lecture on competition preparation, and masterclasses for the Alberta Piano Teachers Association and the Alberta Registered Music Teachers Association in Canada. In the UK Mr Pang has judged the finals of the Windsor International Piano Competition 2019, 2020, 2021, the Piano Competitions of the Blackheath Music Festival, Maidenhead Music Festival, the Maidstone Music Festival, the Longwell Green and Kingswood Performing Arts Festival, and Strings at the Horsham Performers Platform festival. He has had invitations to teach at Music Fest Perugia and at Tadini International Piano School in Lovere and be jury member of Piano Talents International Piano Competition Milan, and the Tadini International Piano Competition.
His engagements for 2021 are judging the Amigdala International Music Competition in Italy, the Windsor International Piano Competition and the Clavis Bavaria International Piano Competition and the BMTG Intercontinental Piano Competition New York.
He annually adjudicates the Freda Parry Scholarship Fund in Essex and the Jena Pang Piano Competition held at Milton Keynes Preparatory School. He is currently the Piano Convenor and a trustee of the Southend Musical Festival, a Competition established in 1911, of which he has been involved with running for the last several years.
During the unusual lockdown period due to Covid 19, Jena has judged several international piano competitions online as well as presenting pupils for such platforms and finds that the online medium is a good way forward during these uncertain times, and is happy to judge musical festivals online as well.
Jena Pang is an adjudicator for the British and International Federation of Festivals for Music, Dance and Speech.
Adjudicating piano at Blackheath Music Festival in 2017, with friends Graeme Humphrey and Dennis Lee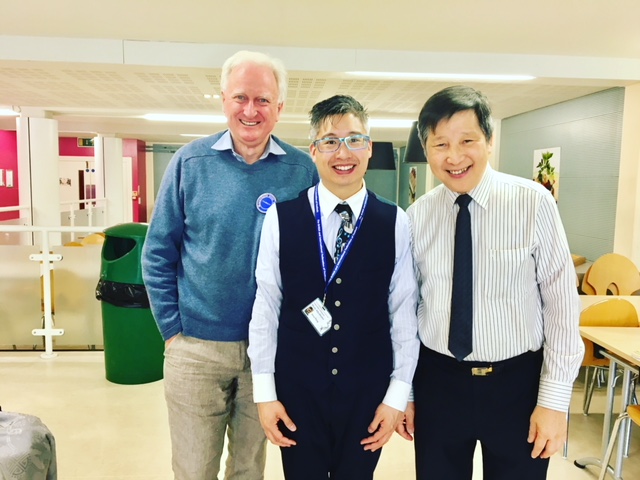 Charity concert with Graeme Humphrey 2016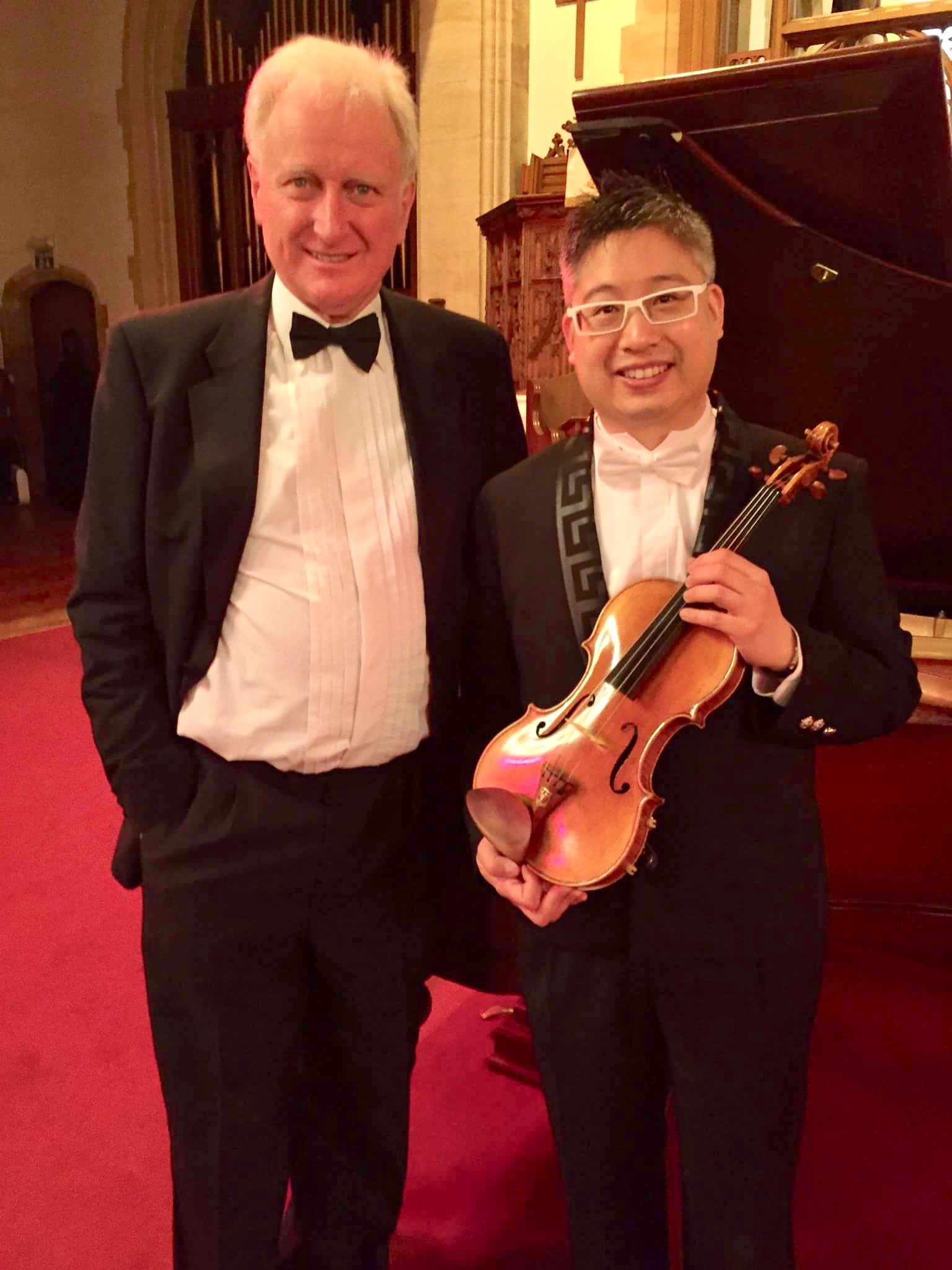 Recital the London International Antique Doll, Teddy Bear and Toy Fair 2016, presenting a programme of piano music written for children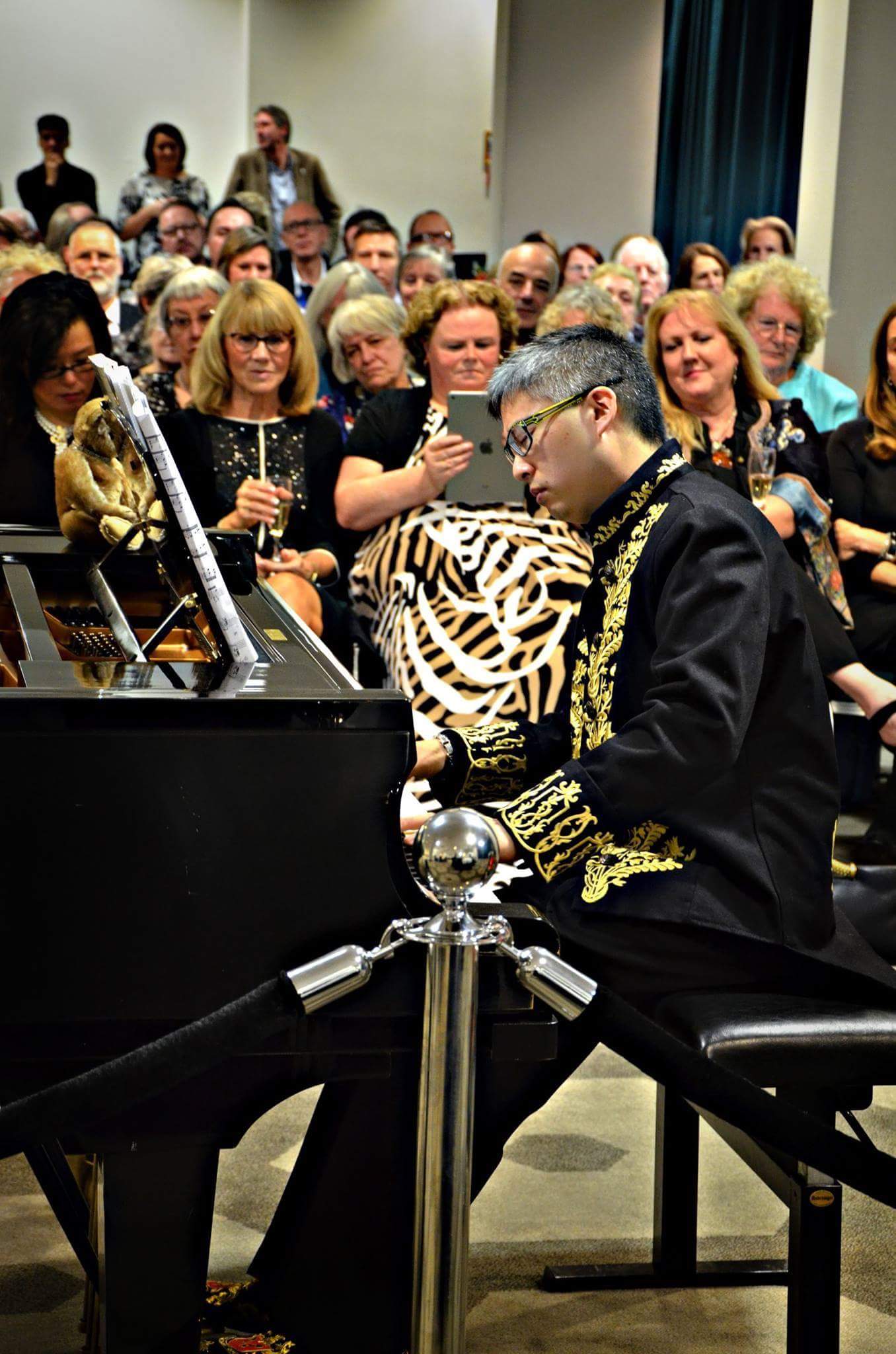 Recital with Chee Hung Toh at the London International Antique Doll, Teddy Bear and Toy Fair 2017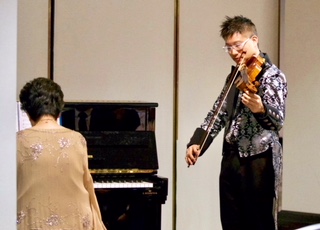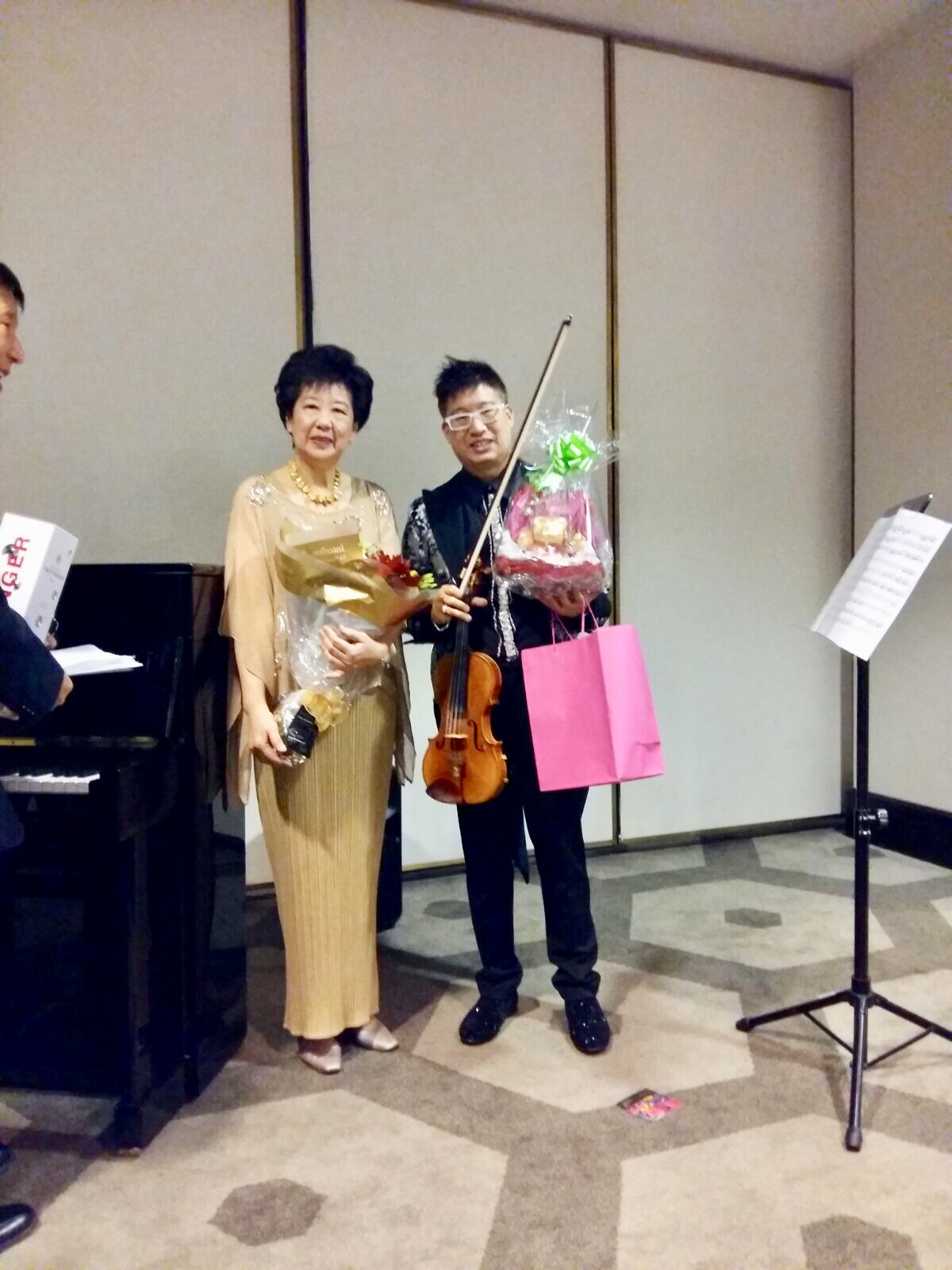 Aside from music, Jena is an internationally recognised teddy bear collector. He and his collection have had international press coverage in newspapers, television and the internet and were more recently featured on BBC2 Collectaholics television series. He has been interviewed on BBC London Radio by Gaby Roslin, BBC Radio Lancashire, in addition to appearances on both Russian and German television programmes. He has had several articles and interviews on collecting antique and artist teddy bears published in the international Steiff Club Magazine, the 200 Years of Childhood London International Antique Doll, Teddy bear and Toy fair Magazine, the Woburn Abbey International Teddy Bear Festival Magazine and the German BarReport teddy Bear Magazine. He has also performed piano and violin recitals at international teddy bear festivals.

Places where he has performed:
Hong Kong City Hall, Hong Kong
Sha Tin Town Hall, Hong Kong
Koln Cathedral, Germany
Munster Town Hall, Germany
Churches in Salzburg and Innsbruck, Austria
Llangollen International Musical Eisteddford, Wales
The Minoru Chapel, Richmond,Vancouver, BC, Canada
Oakland Califonia Temple, San Francisco, USA
Christchurch Cathedral, Oxford
Jacqueline du Pre Building, St Hildas, Oxford
The Holywell Music Room, Oxford
The Sheldonian Theatre, Oxford
The Dennis Arnold Hall, Faculty of Music, Oxford
St Peter's College Chapel and music room, Oxford
Exeter College Chapel, Oxford
The Plaza Centre, Southchurch, Southend on Sea, Essex
The Civic Centre, Southend on Sea, Essex
The Priory, Priory Park, Southend on Sea, Essex
St Mary's Church Prittlewell, Southend on Sea, Essex
Thorpe Bay and Shoeburyness Baptist Church,Southend on Sea, Essex
St Augustines Church, Thorpe Bay,Southend on Sea, Essex
Chelmsford Cathedral, Chelmsford, Essex
Crowstone United Reform Church, Westcliff on Sea, Essex
Highlands Church, Leigh on Sea, Essex
St Margarets Church, Leigh on Sea
St Nicholas's church Great Wakering, Essex
St Nicholas Church Canewdon, Essex
Christchurch, Latchingdon, Essex
Bromley Youth Music Centre, Kent
Sospiro piano centre, Biggin Hill, Kent
Bromley Parish Church Liszt Fest, Bromley, Kent
Little Linford House, Little Linford


If you share any of my hobbies or interests please e-mail me for a chat.

Contact Jena!

Last updated: 12 November 2021
Please use the Site Navigator menu to view other pages of this website, or alternatively press the 'Back' button on your web browser.

COPYRIGHT 2004-2018: JENA PANG. ALL RIGHTS RESERVED.