For many violinists, the opportunity to own or play on a great antique Cremonese, Brescian, Mantuan, Venetian, Milanese violin is rare and almost impossible unless you have big bucks in the bank, know a nice friendly violin dealer or an owner/ museum/ academy/ orchestra/ foundation/ company who is willing to lend you a fab violin. Either you buy an old instrument which is not mega bucks (starting at £30,000 upwards for a worthwhile investment) or you go for a new violin. Glen Collins makes reproductions of old violins and I commissioned him to make me a copy of the late Yehudi Menuhin's Guarneri 'del Gesu', known as the the 'Lord Wilton' of 1742. He has made copies of this violin many times and knows the model well. The original violin is now in the astonishing David Fulton collection and James Ehnes has recently released an album called 'Hommage' playing instruments from it. Glen does make other Guarneri del Gesu models of 1730, 1735, 1738, but his personal favourite and preference is always the Lord Wilton model. He thinks they always work well, especially if one gets as much as possible like the real thing, for example, a one-piece back. Initially, he carved the scroll just from photos, long before he was able to measure and outline the real Lord Wilton del Gesu violin at Yehudi Menuhin's home many years ago. He now calls his copies, the 'Lord Menuhin'.
Glen was trained by his Uncle, the late great British luthier William Luff, and he himself in turn being one of the leading violin makers of his generation, has trained and taught many current violin makers at the Newark School of violin making. He made a cello for HRH Prince Charles in 1982 and a violin for HRH Prince William in 1984 and amongst his established clientele are the late lengendary Yehudi Menuhin, Dmitry Sitkovetsky, Leland Chen, Jonathan Carney and Kathleen Ford to name but a few.
Here are some photos of my violin that Glen took. It is slightly smaller than a Strad model:
I particularly love the scroll on the Lord Wilton and fell in love with it when I saw a photo of it in the Biddulph 1994 Guarneri del Gesu exhibition catalogue. I think it has 'big ears' and is much wider than some of del Gesu's earlier work. Unlike Stradivari's perfection of craftmanship, del Gesu's violins are somewhat rougher and not perfectly symetrical, but I think this adds to the charm and character of his violins.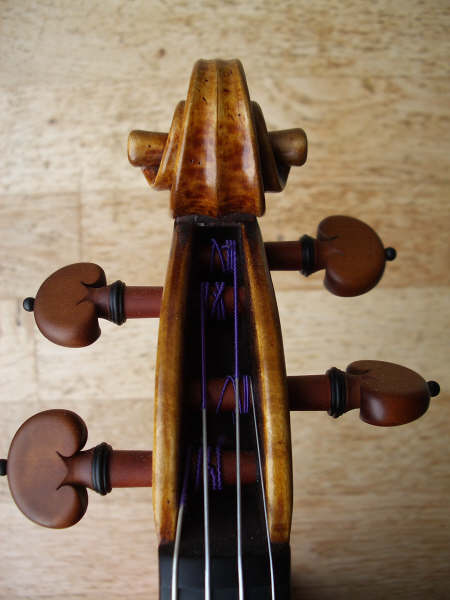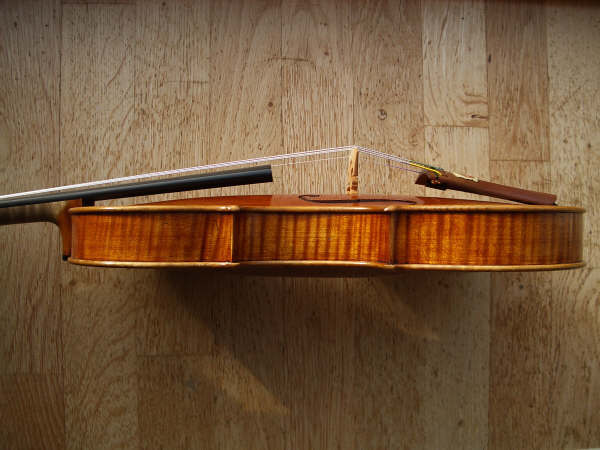 The crest on the tailpiece is of the Guarneri family and specially made in gold and enamel by a jeweller in New York. The original Lord Wilton Guarneri del Gesu had one on its tailpiece and can be seen in photos of Yehudi Menuhin holding or playing it.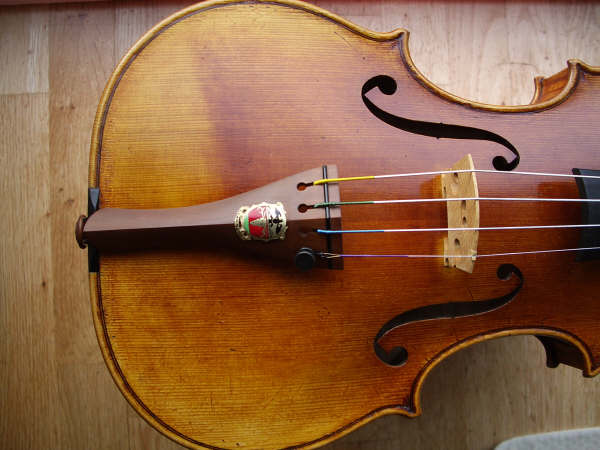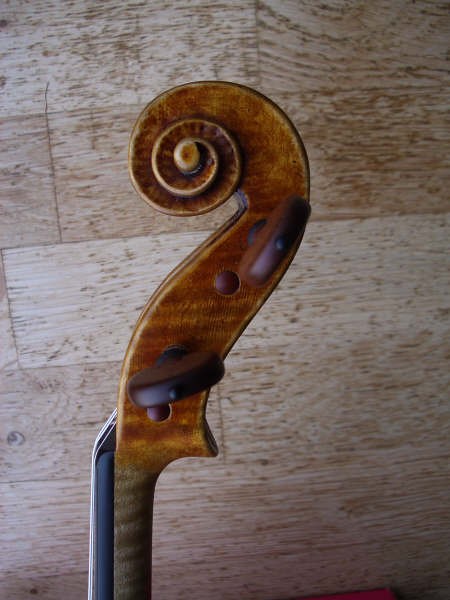 Here you can see the antique effect showing natural wearing away of the varnish from years of playing. Clever Glen!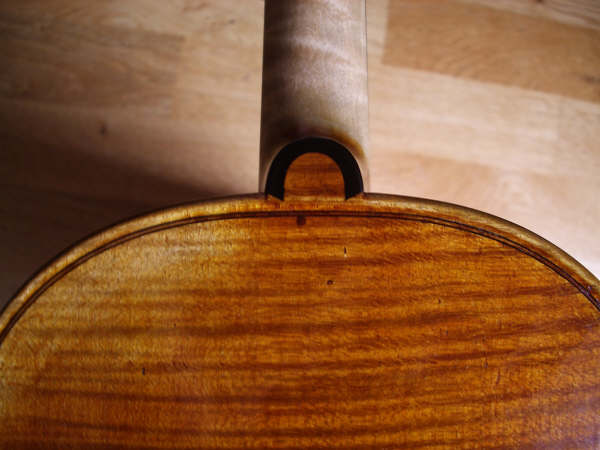 Glen antiques his violins to look similar to the original violin he has copied. The results are amazing and his violins look and sound fabulous! Earlier this year, I was playing somewhere, and a fellow violinist asked me, 'Is that a del Gesu you are playing?' I gleefully replied, 'Actually, no. It's a Glen Collins!'
It takes Glen about 3 months to make a violin from start to finish. Here are some photos of his violin making process for you to enjoy.
This is Glen's workshop where he works his magic: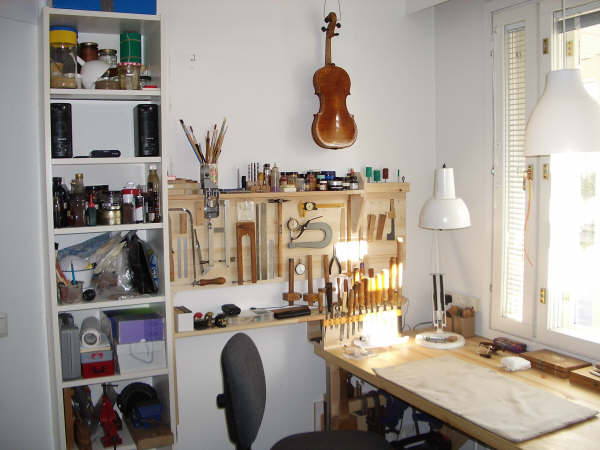 Glen starts with choosing a set of wood for tonal qualities and matches the Maple of the back, scroll and ribs: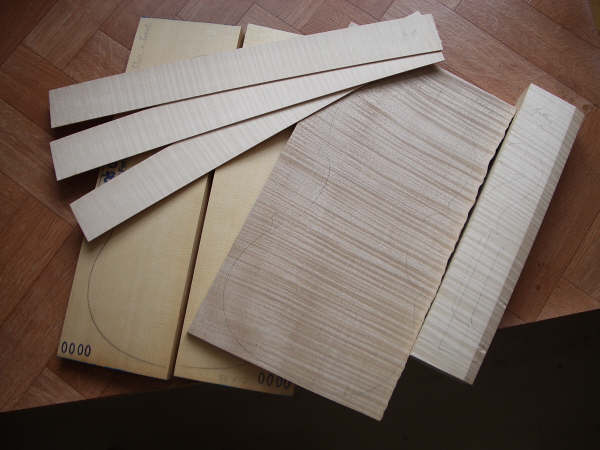 Next, he glues six blocks on a mould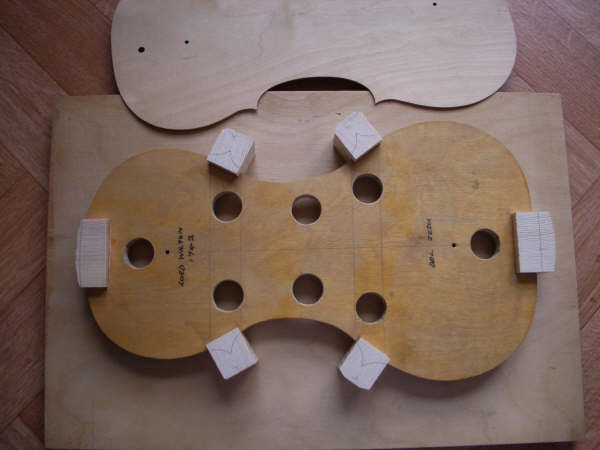 and shapes them to the inside rib line and bends and glues in the C's: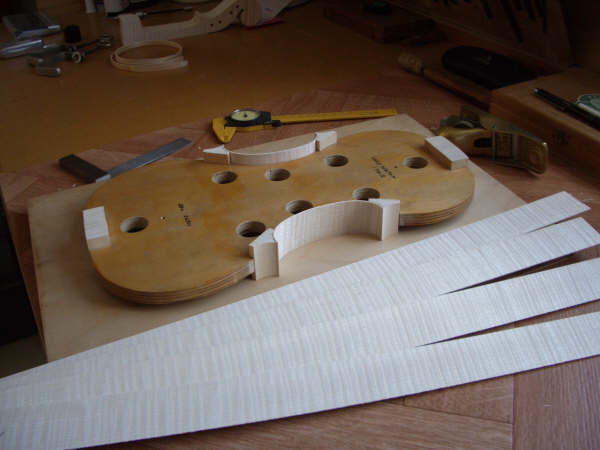 The top and lower ribs are then added and linings fitted to strengthen the structure when the mould is removed. The thin rib wood is steam bent to shape around a hot metal iron.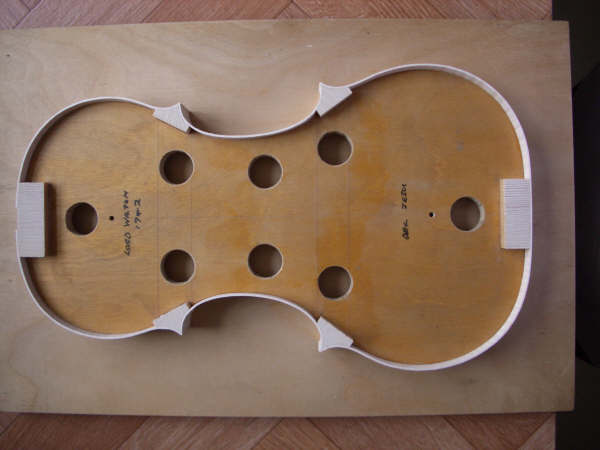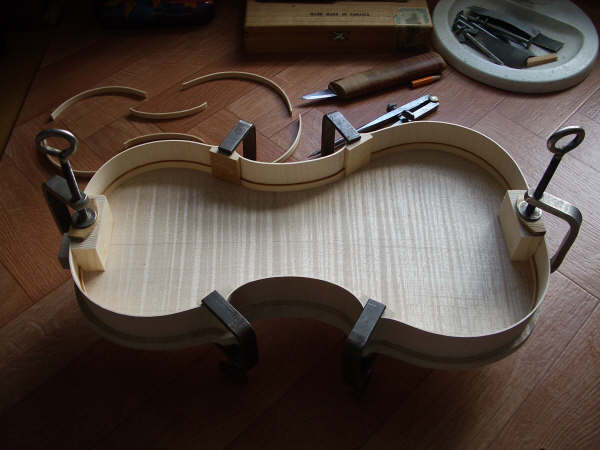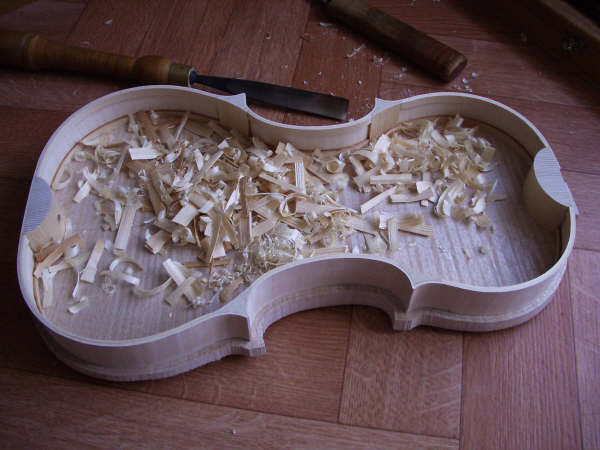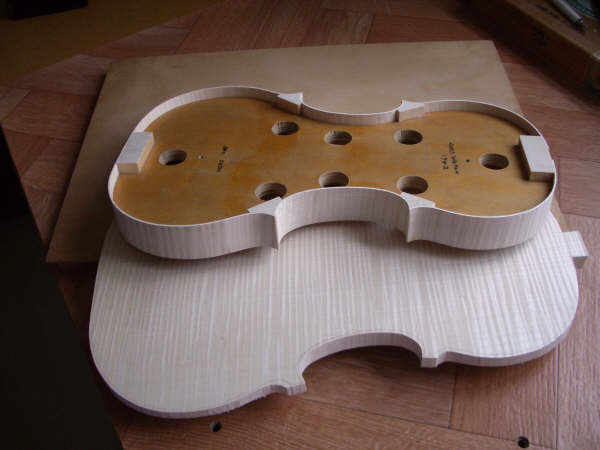 The back is cut to an outline and the outside arching is carved, first with a gouge then with small thumb planes: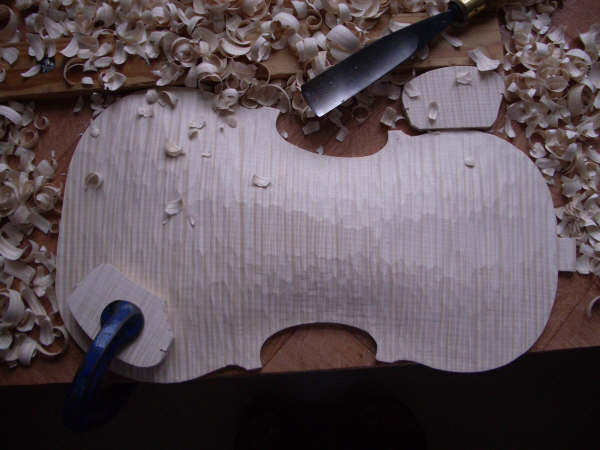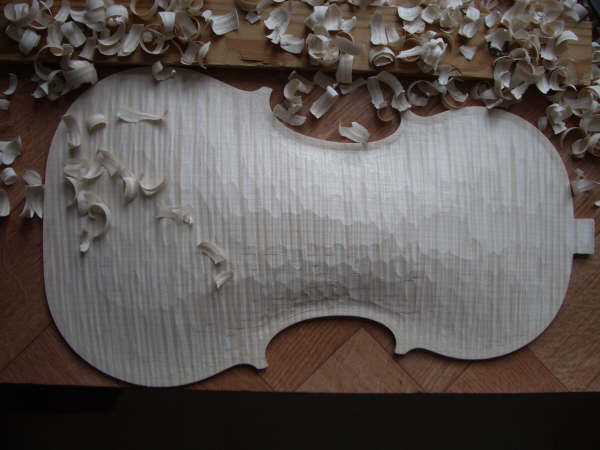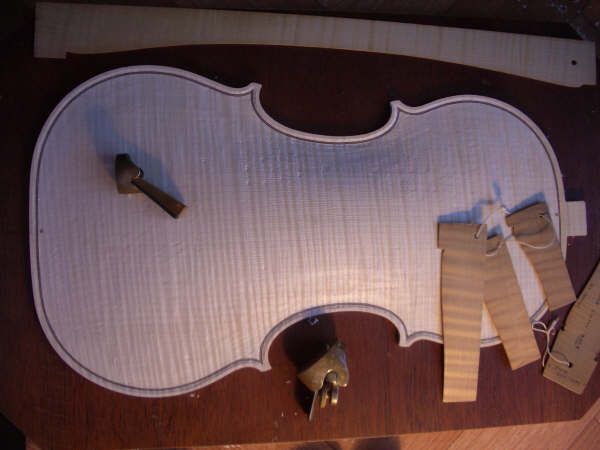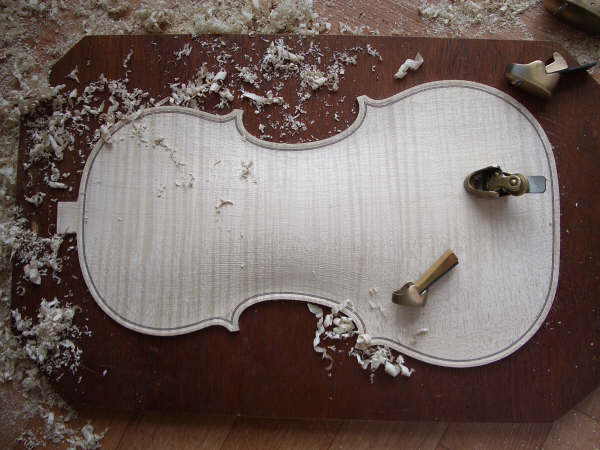 A channel is cut for the purfling and the three strips glued into place: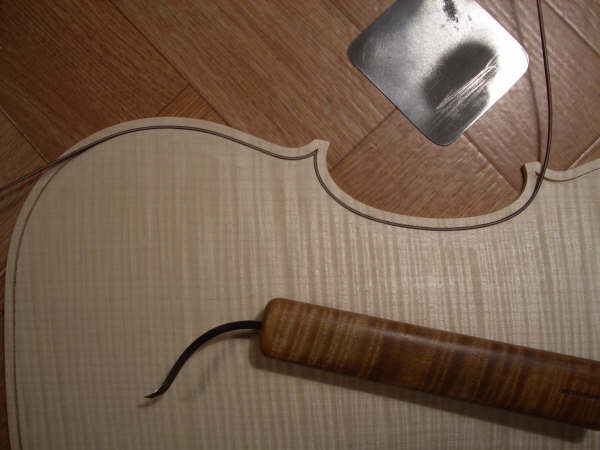 When the outside is finished, the back is turned over and hollowed with gounge and planes; the correct thicknesses here are essential if the violin is to sound well. All the surface finishes are done with a metal scraper.
The ribs are then glued to the back as follows: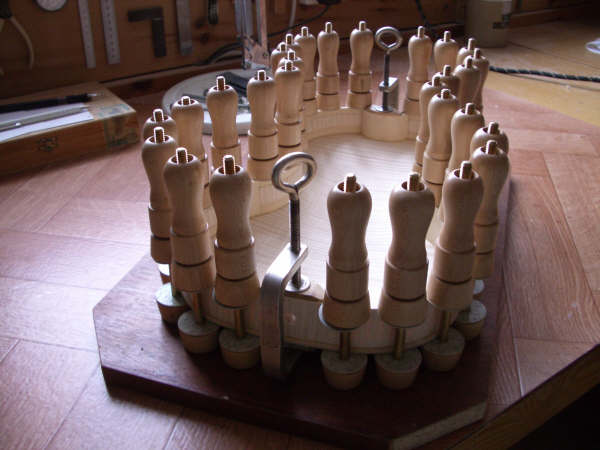 The front outline is taken and then arched and purfled like the back, although different thicknesses are needed here.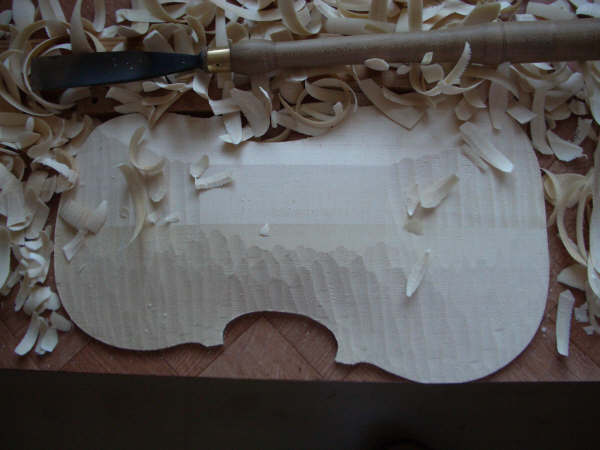 The sound holes are cut into the Spruce front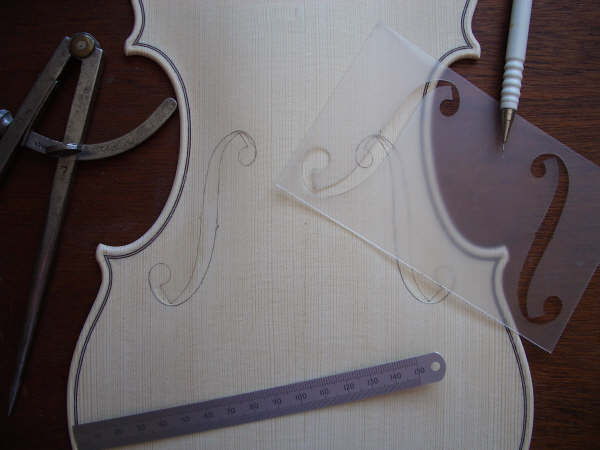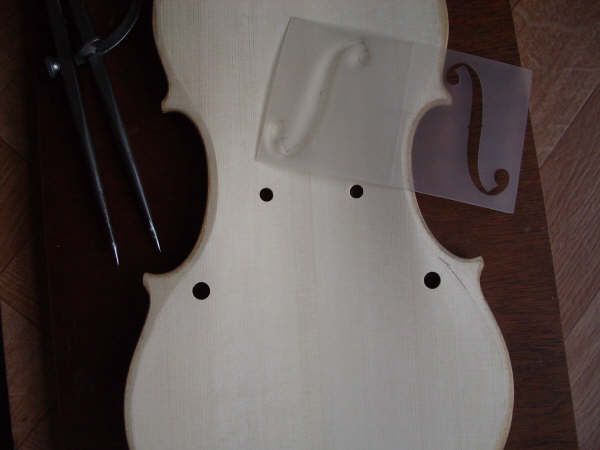 and a bar added to the bass side.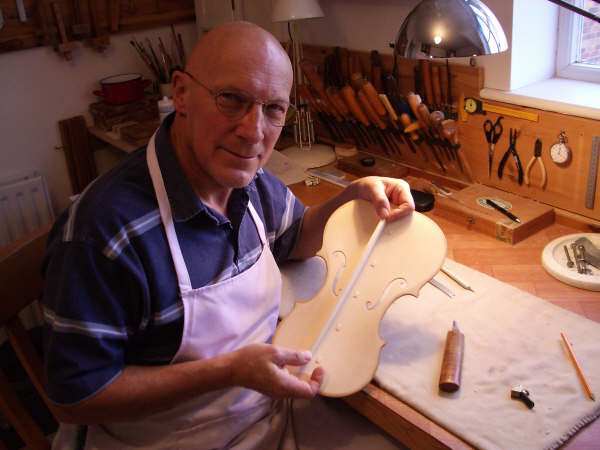 The body is then made complete by gluing the front onto the ribs
The scroll is cut from the block and with the waste wood removed, is then carved with hand tools (gouges, chiesels and scrapers) and the holes drilled for the pegs: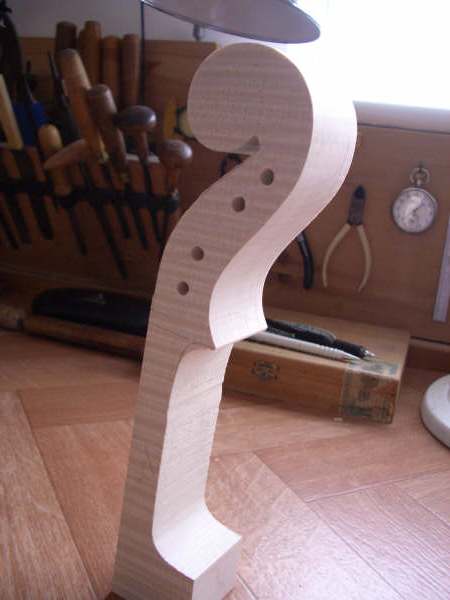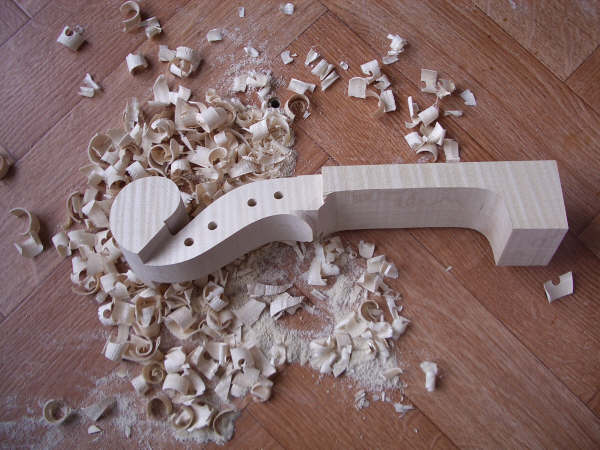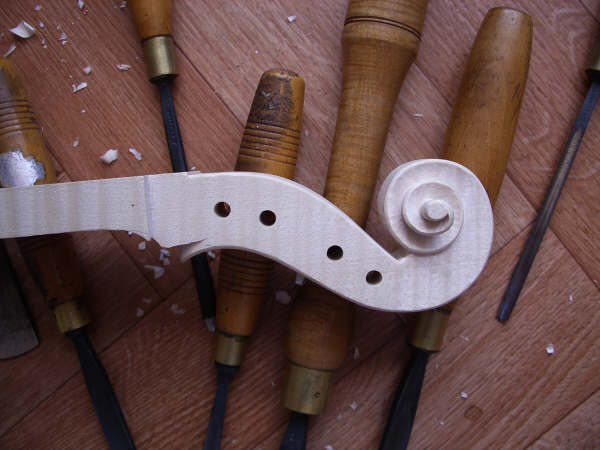 Next, a fingerboard is shaped and glued to the neck so that alignment and elevation can be made correct when the whole scroll and neck is fitted to the body
The violin is then varnished with Glen's secret varnish recipe with several coats being applied with a soft brush. The varnish has to be thick enough to protect the wood, but not so thick that it is allowed to cloak the sound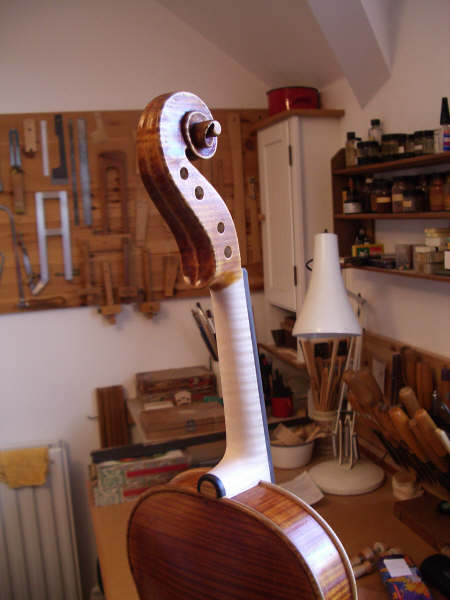 Fitting-up the violin comes at the end, but this is just as important as all the rest of the process, especially the bridge and the sound post - Glen says they are the heart and soul of the instrument!
Glen threading the strings through the tailpiece of my violin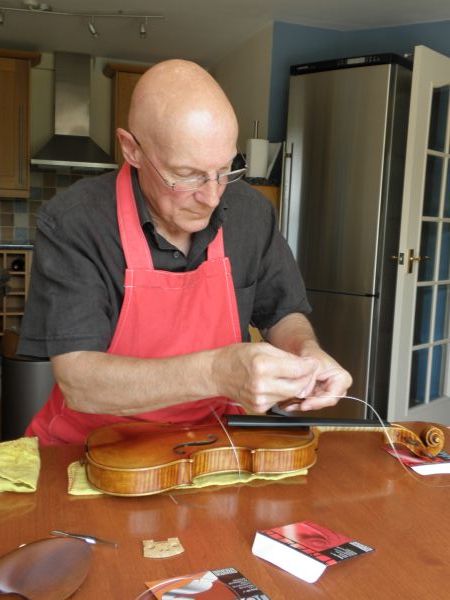 Glen adding on my tailpiece with the Guarneri Crest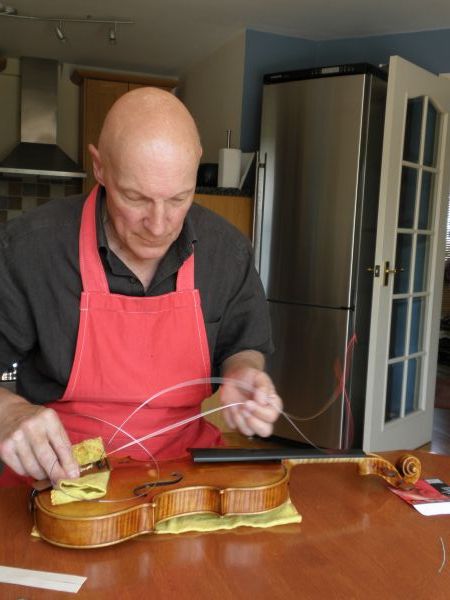 Glen setting up the bridge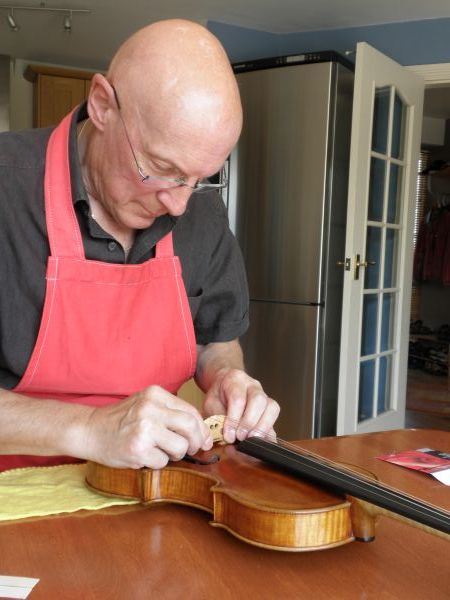 Glen tuning the strings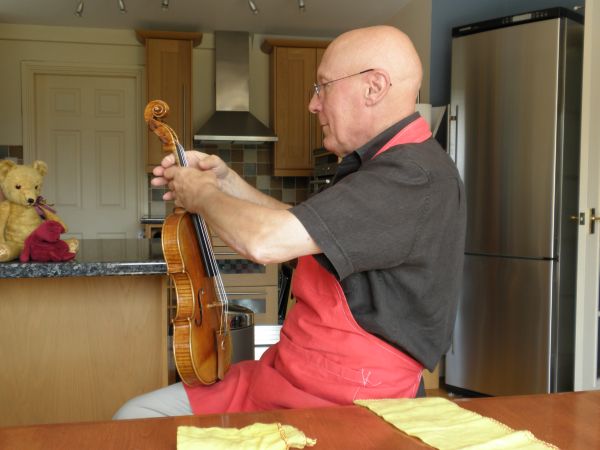 Finally, adding the Rieffenberg chin rest.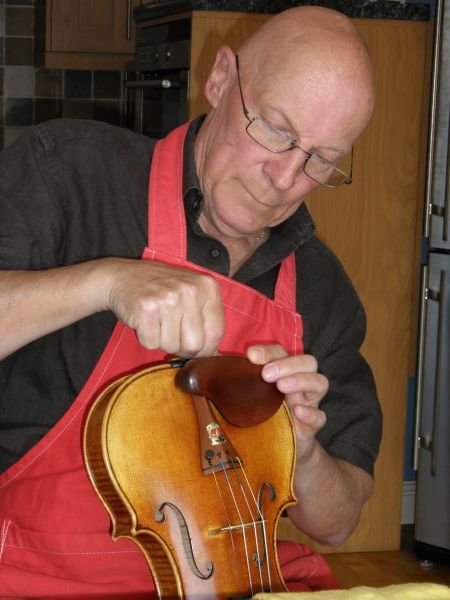 I hope that has enlightened you as to how a violin is made, but more particularly how Glen makes his violins!
Here are some photos from the day I went to Holly Bush Cottage, Newark, to try my violin and meet Glen for the first time. Inevitably, Timmy bear came along too and made two new friends with 2 of Glen's teddies!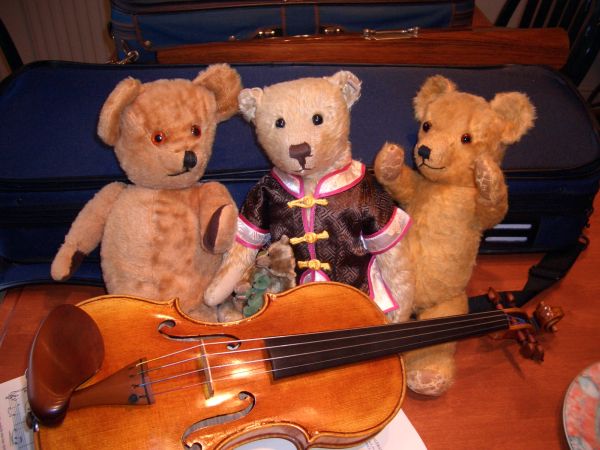 Two of Glen's sweet Chad Valley bears and my violin! These bears get everywhere!!!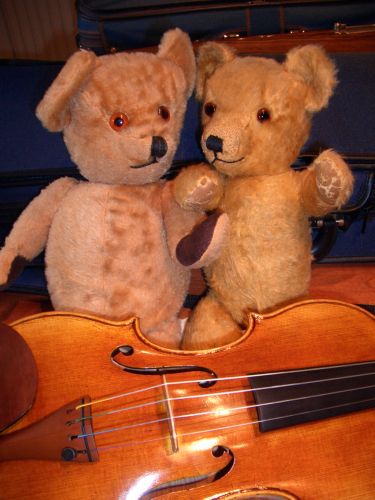 Ah, the man himself: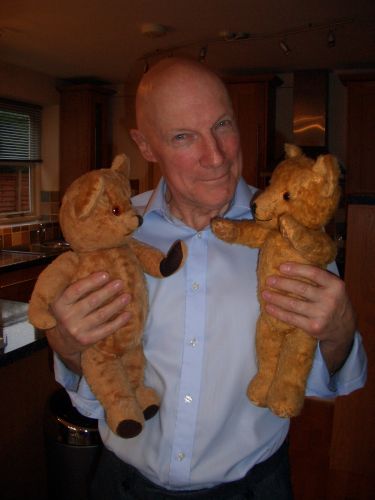 With my violin on the day I same to adopt it from Glen: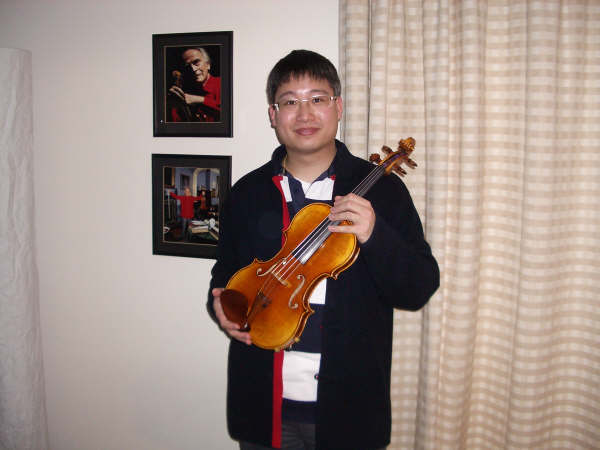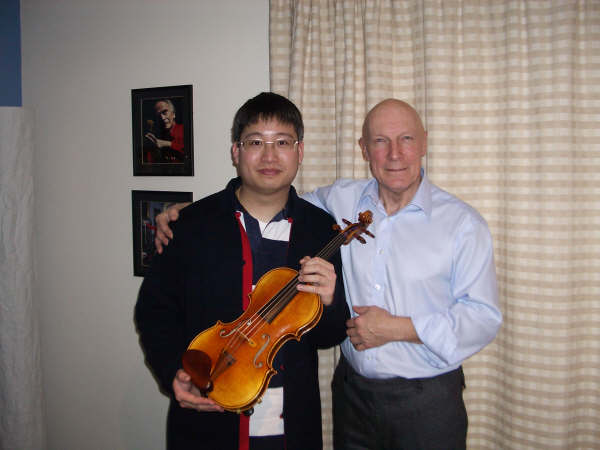 The chin rest on my violin that I use is a 'Reiffenberg' model. This type of chin rest was on the 1717 Reiffenberg Strad which was owned by Dimitri Sitkovetsky during 1983-2003, who commissioned Glen to make a copy of this violin for him. Glen was influential in getting this chin rest model into production. In fact, my frist violin by David J Rubio had the same model chin rest!
Glen is also a consultant and agent of Allianz insurance for 35 years, ever since it was called British Reserve Insurance Company. He deals with my instrument appraisals for me and can do the same for you.
All I can say is that I love my violin and I can't stop smiling since I got it: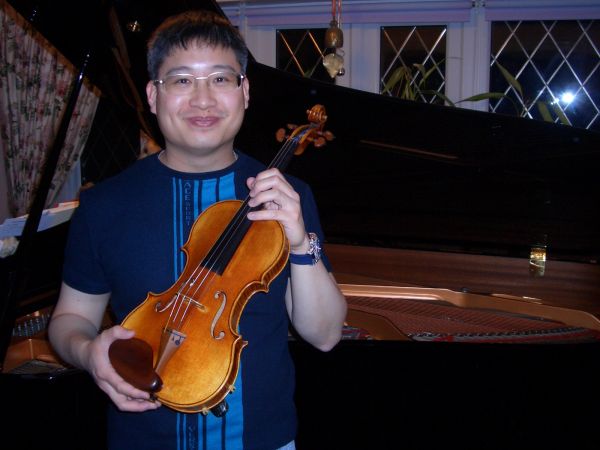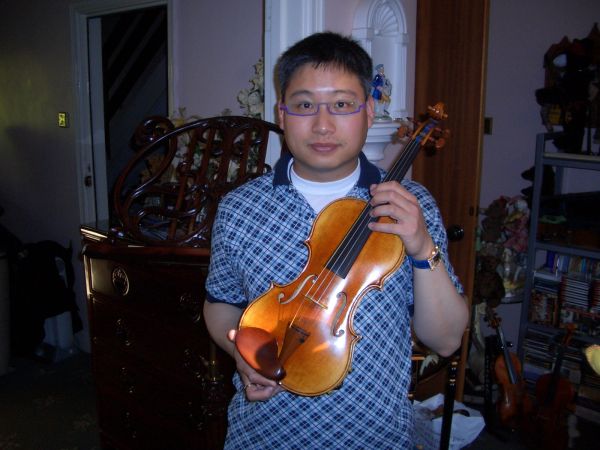 In this photo you can see my favourite things, my violin and my teddybears!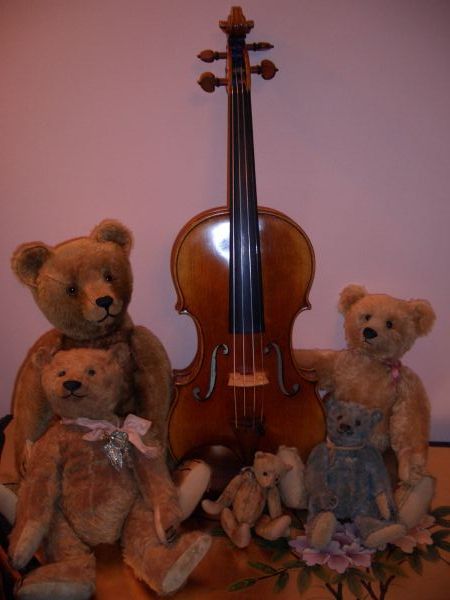 I will soon record some works and upload them on hear so you can hear how good Glen's violins sound! They have a special timbre like an old violin. Glen pays great attention to detail and his work is first class. He even wrote my name on the label!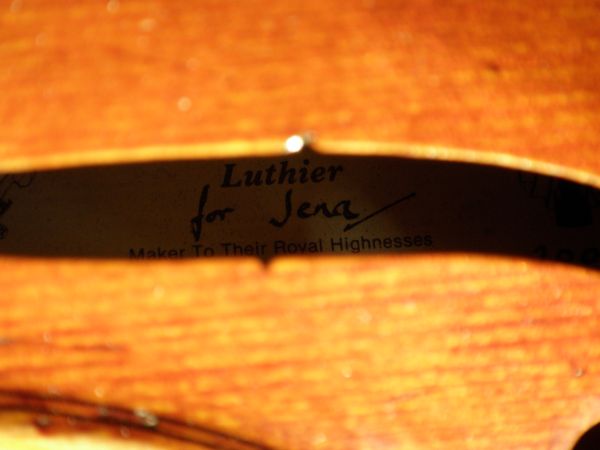 If you are interested in contacting Glen about his violin making or are interested in commissioning a violin from him, then please contact me

Contact Jena! :-p
Please use the Site Navigator menu to view other pages of this website, or alternatively press the 'Back' button on your web browser.
Last Updated: 3 July 2009
http://www.jenapang.com
COPYRIGHT 2007-2009: JENA PANG. ALL RIGHTS RESERVED.